A long time ago IDM was the gold standard among download managers. In fact it is so popular that many of our users still use it. However in 2016 IDM is starting to look a bit dated. There are a few things that could work a lot better if you switch to jD2.
Let's start with IDM's major flaw:
Since IDM does not have a plugin for premiumize you need to generate all the links in our web downloader. There is only one major problem: The pregenerated links will time out. Those timeouts are different with every host, making it quite frustrating to find a common denominator. Unfortunately there is nothing on our end we can change about those timeouts as the timeouts come from the filehosts itself. The only helpful way is to only generate a few links at the same time and then download them right away. Hardly convenient for longer link lists. 
No timeouts in jDownloader 2
With jDownloader 2 it is the exact opposite. There is an official Premiumize.me plugin right there to setup with your Premiumize.me Credentials.  You can queue up your links in the Downloader itself and start downloading several at the same time. There will be no timeouts because jDownloader will only premiumize a filehoster link right before starting to download it.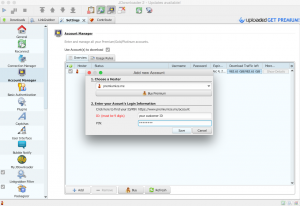 Automatically unpack and unrar split archives
This is one of our favourite features. Right link on any Download in your Download Queue and you can attach the archive password. jDownloader will then unpack automatically and can (if you want it to) even delete the obsolete original part files after.
Access the Premiumize.me Cloud
If you paste a cloud folder directly into jDowloader it will index the files and you can download all or parts of it. Paste the cloud link like this: https://www.premiumize.me/browsetorrent?hash=f84b51f0d2c3455ab5dabb6643b4340234cd036e
How to set it up?
There are just two steps to setup jDownloader2 with your Premiumize.me account.
Get the latest jDownloader 2 version herehere.
Follow this picture guide to add your Premiumize.me premium account.