This post might be outdated, be careful!
You might have noticed that we are currently not able to receive payments by Sofort Banking (Sofortüberweisung). We are working hard to bring this payment method back as soon as possible but until that we want to show how you can pay even so by this method.
We are using a little detour by buying bitcoins but you will be able to pay by these payment methods:
Sofort Banking (Germany, Austria, Switzerland, Belgium, France, Italy, Poland, Spain and Slovakia) – min. 3 months plan
Giropay (Germany) – min. 6 months plan
EPS (Austria) – min. 3 months plan
Bancontact/Mistercash (Belgium) – min. 3 months plan
iDeal (Netherlands) – min. 3 months plan
So how does that work?
First of all you need to create an account on AnyCoinDirect.eu by using this link. AnyCoinDirect.eu is a very trustworthy website for trading bitcoins. The registration is free of charge and you only need to verify your email address. For security reasons you should not use a trashmail address.
After your account has been created and you verified your email address you can buy bitcoins here. You have to buy at least 10,00 EUR (or 30,00 by using Giropay) so you have to select at least the 3 months premium plan for 18,99 EUR.
Important: The bitcoin rate is not that stable like fiat currencies like USD or EUR and might varies from day to day. Addionally AnyCoinDirect.eu takes a small fee so you should not buy exactly the amount you need. We recommend to buy around 1 EUR more to adjust potential exchange fluctuations (+ payment fee which you can see at checkout on AnyCoinDirect.eu). Don't worry, you can use this for later bitcoin payments if you don't need it right away.
To buy Bitcoins you need a bitcoin wallet. These wallets are usually free of charge and very ease to create. Of course you can use any wallet you want but here we want to show how to create and use a wallet on coinapult.com cause this online wallet is very easy to use. You can register here. You only need your email address and a password.
After registration you can view and manage your bitcoin addresses here. This looks like that:

And that's the bitcoin address you need to enter on AnyCoinDirect.eu. Normally payments made by Sofort Banking are instant and you will receive the coins a few minutes after payment but because of fraud protection it takes until the bank successfully transfered the full amount which is like a normal SEPA bankwire (around 1-2 business days). That's why you need to create a bitcoin wallet. We do not recommend to directly use the bitcoin address which will show on our website by selecting bitcoin at checkout because this address is valid for 15 minutes only and your bitcoin wallet on CoinApult forever.
After you received the bitcoins in your account you can select your prefered premium plan on Premiumize.me website and select bitcoin for payment. You will redirected to our bitcoin payment site which shows the amount of bitcoins and the address. This looks like that: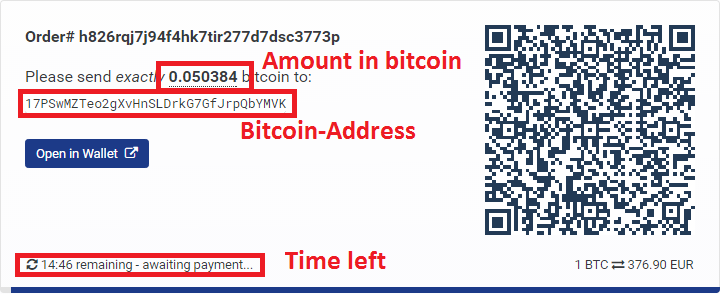 You can send the bitcoins now from your wallet. This looks like that: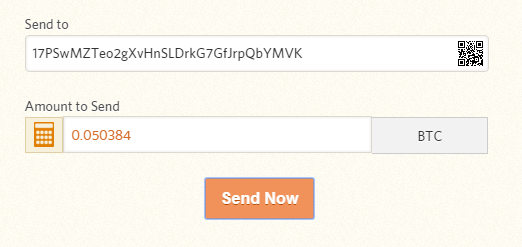 Please note that your invoice expires after 15 minutes so do not take too much time and don't worry, even if you was not fast enough the money is not gone, just contact our support but normally 15 minutes are more than enough.
And that's all. Your payment should be instantly confirmed and you can use Premiumize.me. We are aware that this might be a little bit complicated if you use bitcoin the first time but bitcoin is a great way to easily send money around the world and this very fast, with very low fees and a high degree of anonymity. Of course we still offer tradional SEPA bank wire but this is a great opportunity to get familiar with it.
If you have unused remaining bitcoins in your wallet and don't want to use it in the future feel free to send it to 33H6Q44j7ga5uEas5ZgRy3Emxq8NVaeTxs. All donations will go to a good cause.
At the end some legal notes: We are not responsible for any contents linked or referred in this article. Even it is almost impossible we are not liable for any damage occurs by the use of information or services provided the external websites linked in this post. The trade with bitcoins carries a risk of losing your money up to the total loss. So only invest those funds whose partial or total loss you can afford. So make absolutely sure that you fully understand the risks associated with buying bitcoins.